Stroudsburg, PA – The Pocono Arts Council is pleased to present the annual Members' Exhibition 2020 to be held at 701 Main Street, Suite 402 in Stroudsburg, Oct 3 – Dec 5, 2020. Gallery hours are Tuesday – Friday 10 AM – 4 PM or by appointment, and during the final First Saturday Art Walk event in downtown Stroudsburg on Nov. 7 from 6-8 PM. Held annually, this celebration of members' creativity is a Pocono Arts Council tradition. This year, 49 member artists participated, competing for awards in eight categories. Jurors for the show were Lisa M. Kovacs, owner of The Gallery on Fourth in Easton, PA and Cindy Vojnovic, artist and educator from Easton, PA.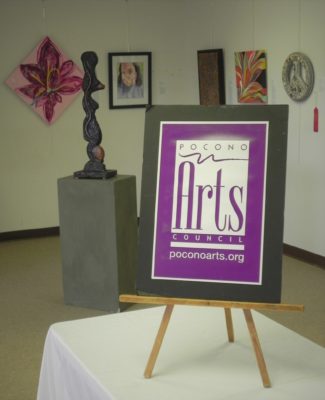 Best of Show, First, Second, and Third place awards were awarded. In addition to the Community Gallery, a "virtual gallery" will be available for viewing here: https://www.poconoarts.org/gallery/. Congratulations to the following winners:
BEST OF SHOW: "Auditioning the Stash" Tracy Granger, East Stroudsburg, Fiber Art Category
Oils: First, Leslie McAllister, Stroudsburg; Second, Julie Natale, East Stroudsburg; Third, Donna Kallesser, East Stroudsburg
Acrylics: First, Frank DePalma, East Stroudsburg; Second, Jeanne H. Ross, Lords Valley; Third, Lauryn de Leeuw, Lords Valley
Watercolor: First, Beverly Abel, Cresco; Second, Kathleen Zann Isacson, Marshalls Creek; Third, Altagracia Santana, East Stroudsburg
Photography: First, Laurinda Faye, Stroudsburg; Second, Rachel Keslosky, Stroudsburg; Third, Benedetto Marino, East Stroudsburg
Mixed Media: First, Sandra Lee Garland, East Stroudsburg; Second, Jillian DeLuca, East Stroudsburg; Third, Doug Gilbert, Stroudsburg
Fiber Arts: First, Elizabeth Burnett, Stroudsburg; Second, Lenore Fiore-Mills, Dunmore; Third, Carol Gingrich, Bushkill
3D Works: First, Will Rothfuss, Stroudsburg; Second, Terry Kloiber, Pen Argyl; Third, Elizabeth Tilley, Stroudsburg
Works On Paper: First, Sherwood Samet, Stroudsburg; Second, Ian Carrig, Delaware Water Gap
—
For further information on becoming a member of the Pocono Arts Council, call 570-476-4460 or visit www.poconoarts.org.
The Pocono Arts Council is a local arts service organization serving the Pocono region. The mission of the council is to build the community artistically and culturally by providing leadership, service and education – "Culture Builds Community." For further information, visit www.poconoarts.org, email gro.s1635165781traon1635165781ocop@1635165781ofni1635165781 or call 570-476-4460.