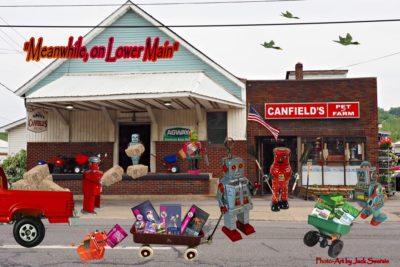 "Robots Gone Wild in Stroudsburg" by Jack Swersie will make its public debut at the 14th Annual StroudFest on Sep. 4, 2021 and will be on display through Sep. 30 in the Pocono Arts Council's window display at 610 Main Street. The art exhibit is a series of 30 whimsical photographs, highlighting many of the best and brightest businesses in Downtown Stroudsburg.
Created by Pocono comedy-entertainer-turned-artist Jack Swersie to bring attention to local businesses after a very challenging year, the series has gained local popularity by highlighting businesses including Earthlight, Yard of Ale, Pocono Arts Council, Renee Dee Photography, Café Duet, Turrell Art Gallery and Custom Framing, Siamsa, Stroudsburg Foto, Sew & Vac, Renegade Winery, Raw Winery, Kitchen Chemistry, The Cure, Canfields, Sherman Theater, Sarah Street Grill, Main Street Jukebox, DeNovo's, and more.
 "I'm honored to have been asked by the Pocono Arts Council to premier this work in their Main Street window display during StroudFest," Swersie said. "There is no more appropriate time and place for this to be seen."
 StroudFest is downtown Stroudsburg's annual celebration and scores of vendors will line Main Street sidewalks from 5th to 9th Street on Sep. 4. A food court will be featured in Courthouse Square and live music will be seen and heard throughout the day. Be sure to stop by the Pocono Arts Council's window display at 610 Main Street for Jack Swersie's "Robots Gone Wild in Stroudsburg.". All prints on exhibit are one-of-a-kind and will be available for purchase by calling the Pocono Arts Council at (570) 476-4460.
For more information, Jack Swersie can be reached at (570) 629-4947 or at ten.d1642361788tp@re1642361788wskca1642361788j1642361788. To see more of his "Robots Gone Wild" series visit him on Instagram (https://www.instagram.com/jackswersie/) or Facebook (https://www.facebook.com/jack.swersie).