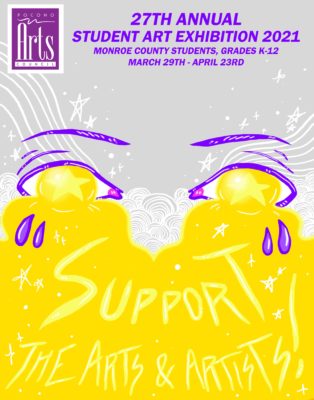 27th Annual Student Art Exhibition 2021
Monroe County students (Grades K-12) are invited to participate in a student art show sponsored by the Pocono Arts Council. The exhibition will be held at the Community Gallery located at 701 Main Street, Suite 402 in Stroudsburg and is open to students residing in the county or attending a Monroe County school.
Schedule
Delivery/Drop Off: Tue., Mar. 23; 1-5 PM (or by appointment), 701 Main St., Suite 402
Artists' Reception & Awards Presentation/Closing Reception: Fri., Apr. 16, 4-6 pm
Exhibition Dates & Times: Mar. 29-Apr. 23, 2021
Exhibition Hours: Tuesday-Friday; 10 am – 4 pm (Weekends by appointment)
Pick-up Work: Remove works April 16-23 by appointment
Cash Awards
– Best of Show
– Senior Awards (three in each Category)
– Junior Awards thru Grade 8 (three in each Category)
Awards are at the sole discretion of the judge(s). All categories and places may not be awarded.
Categories
– 2-D Works
– 3-D Works (Sculpture/Non-Functional)
– Fine Crafts (Functional)
– Photography/Videography
Regulations
– There is a $15 entry fee per student.This gives each student a one-year Student Membership in the Pocono Arts Council.
– One (1) work may be submitted per student.
– Work must be ORIGINAL and created solely by the student.
– 2-D and Photography work must be able to be wire-hung.
– Show organizers reserve the right to reject a work for reasons of safety and/or inappropriate subject matter.
– The Catalogue & Artist Release forms must be filled out and signed. The Entry form must be completed and attached to the upper left-hand corner of the back or on the bottom of the work.
– Pocono Arts Council is not responsible for unclaimed works. Work can be taken following the closing reception or arrange to pick up by Apr. 23 (by appointment).