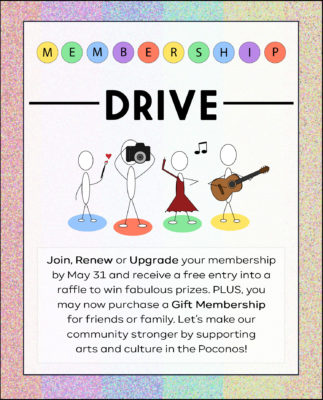 Apr. 30, 2021 – A Pocono Arts Council membership offers individuals, families, and local businesses a unique way to participate in and support the vibrant arts communities in Northeast PA. Membership is open to all! We welcome artists and non-artists, individuals and families, youth and seniors.
SPECIAL PROMOTION! To build our membership and community support, we are launching a Membership Drive in May 2021. Join | Renew | Upgrade | Gift  by May 31, 2021 and receive free entry into a raffle to win fabulous prizes. Plus, NEW, you may now purchase a Gift Membership for a friend or family member. 
Select a membership level that is right for you and/or "gift a membership" to a friend! Join | Renew | Upgrade | Gift
ALL members are entitled to create a FREE listing in our online Arts Directory, featuring member artists, musicians, performers, community organizations, and more! View the online Arts Directory
Current members who would like to be included in the Arts Directory should fill out the form to Create Directory Listing
Additional member benefits include a monthly e-newsletter; opportunity to participate in our annual Members' Exhibition; discounts on exhibition entry fees; opportunity to display your artwork in one of our 10 public galleries.
Be sure to explore our website to view the Arts Calendar of current and upcoming exhibitions, a variety of Arts and Volunteer Opportunities, and a Virtual Gallery of the current exhibition on display in the Community Gallery at 701 Main Street, Suite 402, Stroudsburg.
"Like" us on Facebook, Instagram and Twitter!
Let's make our community stronger by supporting arts and culture in the Poconos!