Welcome to the Community Gallery
The exhibitions presented here can also be found in the Community Gallery in Suite 402 of 701 Main Street, Stroudsburg, PA. Community Gallery hours are Tuesday-Friday from 10am-4pm, by appointment, or during the First Saturday Art Walk event in downtown Stroudsburg from 6-8pm.
We hope this virtual format is enjoyed and shared by all. The images found here were provided by the creating artists at the time of submission and are used with their permission.
If you'd like to purchase an artwork, please fill out a purchase request at the bottom of this page.
---
2021 Student Exhibition
---
2021 Student Exhibition Awards
This year, 39 student member artists participated, competing for awards: 2D-Works, 3D-Works and Photography in 2 age groups, K-8 and 9-12 Grades.
Participating Schools
Clear Run Elementary School; East Stroudsburg North; Evergreen Community School; JT Lambert Intermediate; Little Mountain Academy Homeschool; Notre Dame; Pleasant Valley; Pocono Mountain West; Swiftwater Elementary Center; Swiftwater Intermediate. In addition: 6 Homeschool students participated.
About the Juror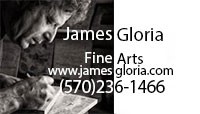 James Gloria
After finishing his BFA in Scenic and Costume Design for Theater at Mason Gross School of the Arts, Rutgres University, James continued work as an apprentice designer and painter. In 1989 he started a decorative arts business, painting murals and faux finishes throughout the East Coast of the U.S. In 2006 he co-founded the Totts Gap Arts Institute, a non-profit community arts center for fine and performing arts in Bangor, PA.
In 1997, Gloria traveled to Rome and later Venice, to study the 16th century craft of Scagliola. Since that time he has taught workshops internationally, and published articles on the technique in addition to articles on venetian plaster and fresco. He also teaches traditional plen air painting along with exhibiting his work locally.
BEST OF SHOW:
Paxton Shemansky, Colorful Zen
SENIOR CATEGORY (Grades 9-12)
2D-Works:
First: Lea Gore, Notre Dame
Second: Shylah Healy, Pleasant Valley
Third: Orien Reish, Notre Dame
Honorable Mention: Renee Haas
Honorable Mention: Katherine Hess
Photography:
Honorable Mention: Ryan Anderson
3D-Works:
Fist: Jacob Kresge
JUNIOR CATEGORY (Grades K-8)
2D-Works
First: Levi Milenkowic
Second: Olivia Wilson
Third: Joseph Riviello
Honorable Mention: David Alva
3D-Works
First: Liliana Mann
Honorable Mention: Zaniya Ferguson
---
Artwork Purchase Inquiry
If you're interested in purchasing artwork from current exhibition, please fill out the request form. We will be in touch with an invoice for the artwork and, if applicable, related shipping charges.
Thank you for your interest and support of the arts!