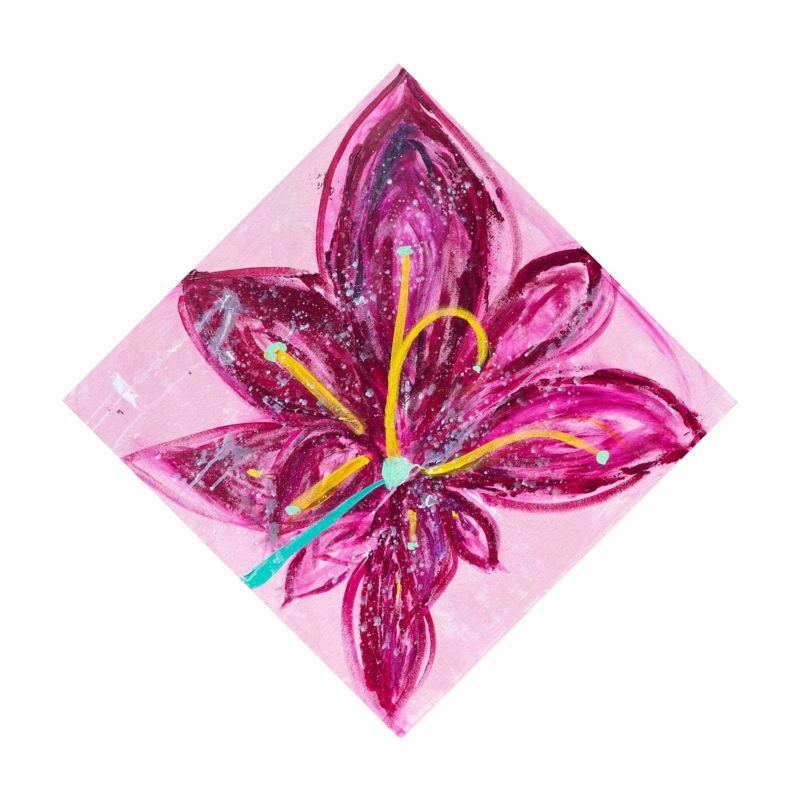 View the Next Work →
Artist:
Jeanne H. Ross
Title:
La Fleur du Mal
Medium:
Acrylic
Size:
24″ x 24″
Artist's Website or Social Media:
—
Artist's Statement:
I experienced the Covid-19 Stay at Home mandates in two stages.
At first, I found them very restrictive and isolating. My major concerns as a single person revolved around survival issues. Going to the store. Shortages.. The possibilities of fuel disruptions. I lost hours of work. Avoided the constant drip of dread from the media. Reruns of Law and Order were getting stale.
However, as this continued, I began to feel a certain freedom. The forced isoation began to be freeing. After making my adjustments, the time afforded me the opportunity to become free from routines and responsibilities. I was lucky enough to reacquaint myself with Lauren deLeeuw during one of my walks, and began to take painting lessons. Untutored and unfettered, I was able to allow my imagination to soar. Since I am a psychotherapist, I was able to allow my unconscious to take over the creative process, and with Lauryn's fine teaching, and immersion in art, was able to produce a body of work, two of which I am submitting. I think that in these two pieces I feel that the evolution of my journey is reflected in them.
La Fleur du Mal, likewise used a variety of tools. Acylic on canvas 24″ x 24″/ There is the urge toward beauty even in a time of evil.
NFS
Please visit the main gallery to submit a purchase inquiry.
---