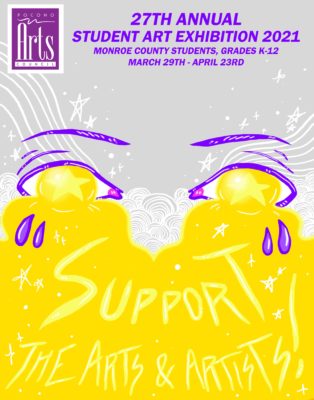 The Pocono Arts Council announces a call for student artists to participate in the 27th Annual Student Art Exhibition 2021. The exhibition is open to students (Grades K-12) in the four Monroe County school districts, as well as local private, charter, cyber, or home schools and will be held at 701 Main St., Suite 402. Drop off of artwork is scheduled for Tue., Mar. 23; between 1-5pm at 701 Main St., Suite 402, and the exhibition runs through Apr. 23. The student artists' reception and awards ceremony will take place Fri., Apr. 16, 4-6pm. Prospectus and entry form available online at Student Art Exhibition 2021.
Categories for submission include 2-D Works, 3-D Works (Sculpture/Non-Functional), Fine Crafts (Functional), and Photography/Videography. Cash awards are available for Best of Show; Senior Awards (three per category); and select Junior Awards K-8 (at the discretion of the judge).
The Pocono Arts Council seeks Sponsors at a level of $250+ to encourage the participation of students and underwrite prizes for the winners. If you are a corporation or individual willing to sponsor this popular student show, please visit Become a Sponsor
Studies continue to prove that the arts are an important component of every child's education; teaching many skills and values that cannot be found in academics alone. Students who study the arts are well-rounded, successful, and better equipped to enter the work force of tomorrow. The public is encouraged to support these aspiring young artists by attending the artists' reception on Apr. 16 and visiting the gallery Tuesday-Friday 10am-4pm or by appointment.