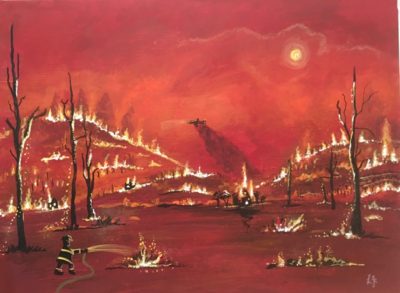 April 1, 2021 – The Pocono Arts Council is pleased to announce the award recipients for "The Earth Speaks VII: A Juried Exhibition on the Environmental Crisis" featured in the Community Gallery, 701 Main Street, Suite 402, Stroudsburg, April 19-May 8, 2021.
Art is a powerful tool for expressing ideas and feelings about issues of concern and can be a catalyst for change. Artists, in a variety of mediums, have captured their concern regarding the environmental crisis. Through art and creative expression, the exhibit will shine a light on man-made issues that pose a threat to our planet, environmental disasters and ideas for solutions. This year, the public is invited to join in to participate in a virtual conference to share ideas and be challenged and entertained by some of the area's finest artists, musicians, poets, and environmental activists – all with the common purpose of capturing concern regarding the climate emergency and how it is affects our planet.
Award recipients will be recognized for their work based on the important theme of the climate emergency and will be featured in a roundtable discussion via Zoom on Tuesday, April 20 from 6-7pm.
Juror's Choice Award: "On the Shoulders of Giants," Barbara Ayala Rugg Diehl (BARD), Waltham, MA
Kay & Girard Lichty Climate Crisis Award: "California Burning," Laura Gonzalez, Stroudsburg, PA
Otto Grever Printmaking Award: "Litter Unmasked," Jack Swersie, Scotrun, PA
2-D Award: "Scar," Glenn D. Koehler, Jr., Allentown, PA
3-D Award: "idk! the grass is always greener when you water it, but I always forget so I made this," Jovanni Luna, Brooklyn, NY
Photography Award: "Last Look?–Disappearing Glaciers," Ray Roper, Tannersville, PA
Origins Gallery Student Award: "Save The Turtles," Angelina Kimmins, Kutztown University
21 artists submitted 46 pieces to be juried. 26 works were selected to be included in the show from artists residing in Pennsylvania, New Jersey, New York, Maryland, and Massachusetts. Award sponsors for the Earth Speaks VII are PPL Foundation, Mark & Wendy Lichty, Origins Gallery, and the Pocono Arts Council.
An artists' reception will be held in the Community Gallery, 701 Main Street, Suite 402, on Saturday, April 24, 1-3pm, where awards will be presented and artists recognized. In addition, a virtual conference, "Restore Our Earth," will precede the art opening, April 20-23, according to the following schedule of events (Zoom links provided).
Schedule of Events
Tue. April 20: Via Zoom, roundtable discussion with winning artists, 6-7pm (Zoom link: April 20 Zoom)
Wed. April 21: Via Zoom, watch the film, "Fractured State," followed by a panel discussion, recognizing the 50-year anniversary of Environmental Rights Amendment in PA, 6-7pm (Zoom link: April 21 Zoom)
Thu. April 22: Via Zoom, watch the film "Dream On The Farm," Farm Arts Collective, Damascus, Pa., followed by interview with artistic director Tannis Kowalchuk and a discussion on sustainable farming, 6-7pm (Zoom link: April 22 Zoom)
Fri. April 23: Via Zoom, poetry and music open mic night, featuring the group "Earth Song," who will perform their original song, "One Earth Song," plus, an introduction to artists4earth.com, 6-7pm (Zoom link: April 23 Zoom)
Sat., April 24: Live on-site Artists' Reception & Awards Presentation at the Community Gallery, 701 Main Street, Suite 402, Stroudsburg, 1-3pm. Awards ceremony will be recorded and available to view on PoconoArts YouTube Channel
Jurors for the show were Anita Erdős Forrester and Rachael Gorchov. Anita Erdős Forrester is a Geography and Environmental Studies professor at Northampton Community College, where she has taught since 2007. Rachael Gorchov is an Assistant Professor of Fine Art at Northampton Community College in Bethlehem, Pa.
Mark Lichty has served as Chair of the Earth Speaks committee for the past seven years. Joining him this year were committee members: Roger Spotts, representative of the Monroe County Conservation District; Pocono Arts Council representatives Jody Singer and Dr. Thomas O'Connor; Artists4Earth founders Renard Cohen and Brian VanKorn; and Northampton Community College representative, Rachael Gorchov.
A Virtual Gallery of the Earth Speaks VII artwork will be posted soon!